「 Asian Restaurant Amakara」The Amakara restaurant has a very pronounced Asian ambiance right from the entrance with lotus designs on splendid orange curtains. A pungent odor floats in this place on the nostalgic air of the best vinyl records. The chef shakes his pan leaving an impressive flame dancing.
The absolutely perfect taste will serve for you.
Many ethnic cuisine lovers come here from far places because of the great rumors they heard about Amakara. There are a lot of delicious Asian foods which use fresh herbs.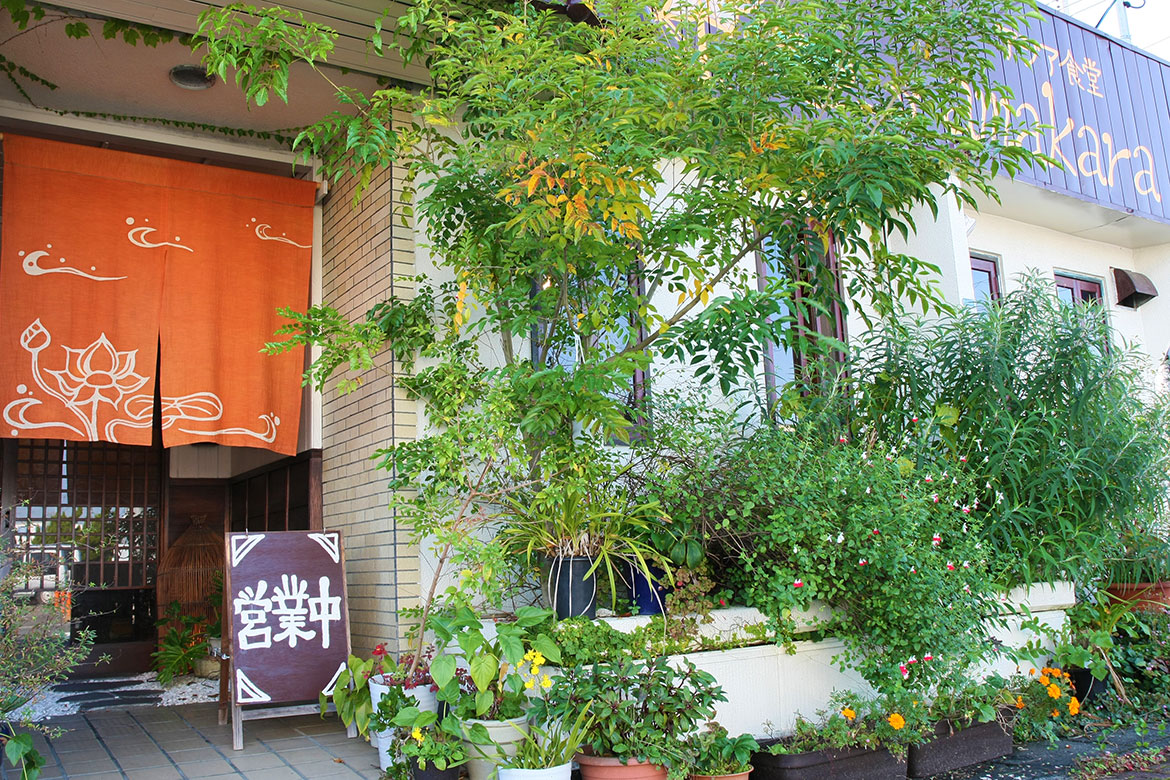 OWNER INTERVIEW
The chef tells us about the specificities of his restaurant and
the charm of Mochimune.
Home made fresh herb and authentic cuisine.
We opened in 2011 as the one and only ethnic restaurant in Mochimune.
Very picky on the herbs used in our dishes, we decided to grow them ourselves. The usable fresh herbs obviously depend on the seasons, which is why we offer specific seasonal menus limited in time.
I traveled a lot during my youth, in many countries of southeast asia, that's how I picked up the different dishes. In general, I do not change the recipes to keep the same flavors as in the countries of origin. In addition, we offer a range of beers imported from many countries.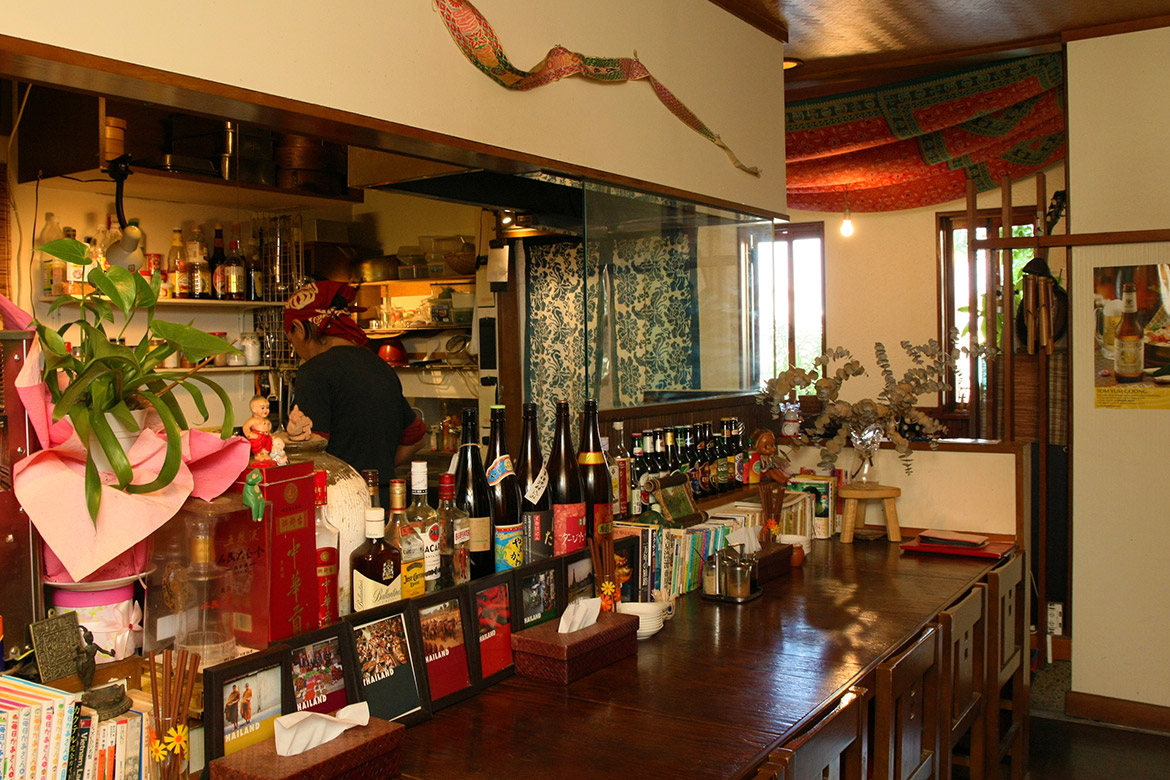 Once you eat spring roll with shrimp, you can not live without it anymore.
In truth, I also love to fish shrimps. It makes my spring rolls really successful.I fill a crunchy foliage of many small shrimps. A visitor from Vietnam even complimented me that they were even better than in his country.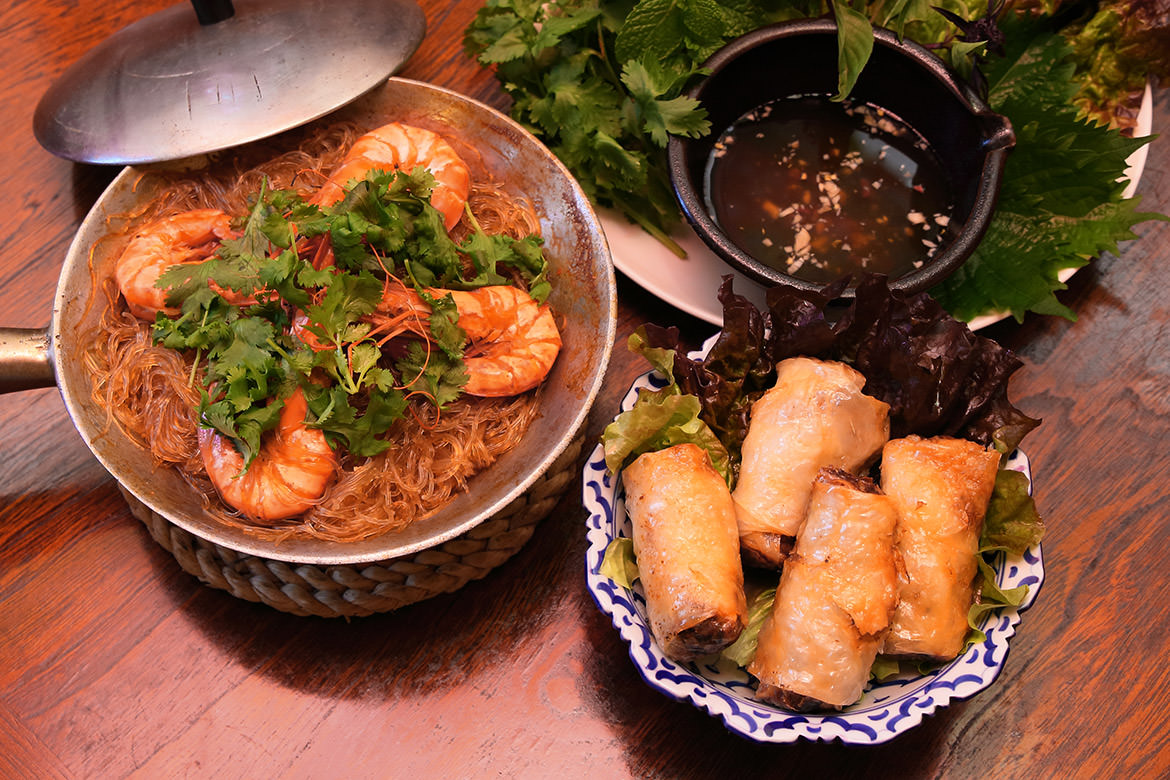 During the "sakura" shrimps fishing season, sometimes the restaurant may close momentarily. Please check out the opening hours on our social networks before coming.
Recommended places in Mochimune.
If I came back to open a restaurant in Mochimune, it is not only because I have lived there in the past, it is also for the beauty of the place. The scenery and the sea are superb and I love to stroll through its ancient streets.
Mochimune is well known for its fresh Shirasu but I do not particularly offer it in my restaurant. In my opinion, the best way to eat fresh shirasu is simply with rice. If you come to Mochimune, I wish with all my heart that you will enjoy your time and lots of good things while strolling quietly in the harbor and in the streets of the city.